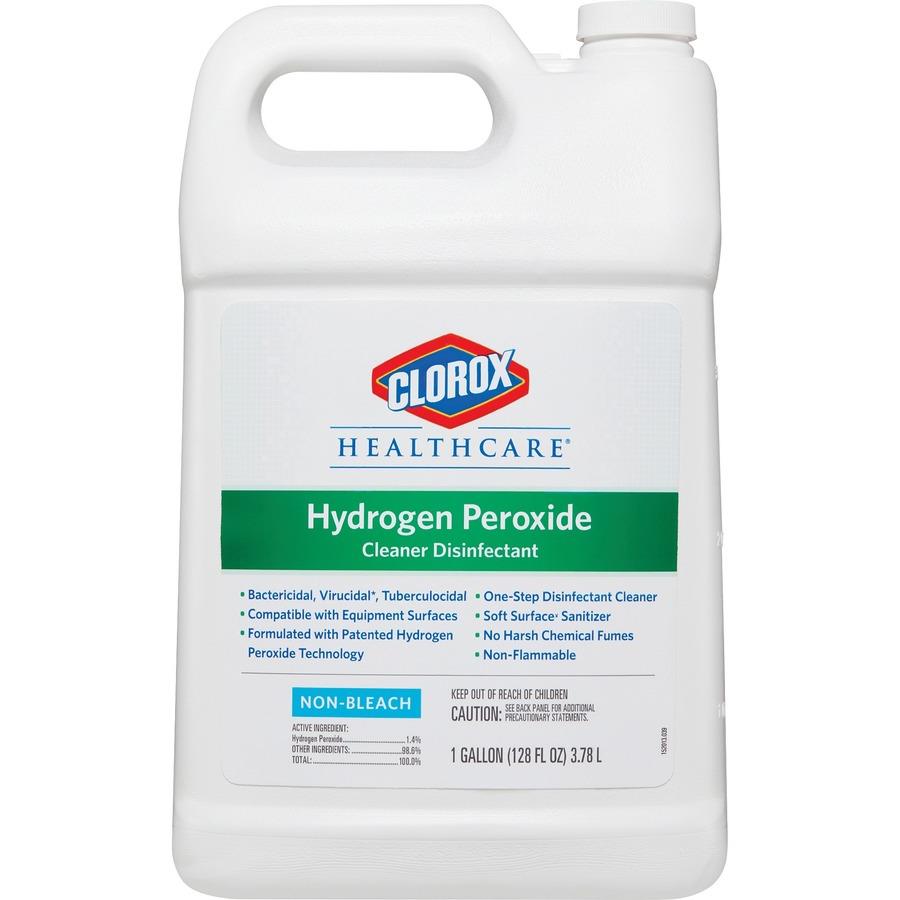 Specifications
Hydrogen peroxide formula quickly kills 99.9% of bacteria and viruses
Versatile design eliminates pathogens on broad range of surfaces
Perfect for cleaning doorknobs, glass, plastic, vinyl and more
Specifically for industrial and institutional use
Composition: Hydrogen peroxide
Recommended Use: Bacteria Remover Fungi Remover Virus Remover Germs Remover
Multi Surface
Multipurpose
Non-corrosive
Clorox® Healthcare® Hydrogen Peroxide Cleaner - Clear Liquid - 1 Gal (128 Fl Oz) - 4 / Carton
Item # CPP30829
Manufacturer: Clorox Professional Products
Manufacturer # 30829
Hydrogen peroxide disinfecting cleaner features a highly versatile design that acts as a bactericidal, veridical and fungicidal disinfectant to quickly clean hard, nonporous surfaces. Hydrogen peroxide formula eliminates 99.9 percent of bacteria and viruses in as little as 30 seconds for fast, efficient performance. Multi-surface cleaner is EPA-registered to kill pathogens on a broad range of surfaces, including vinyl, plastic, glass, stainless steel, desktops, sinks and more. Disinfectant is perfect for use on high-touch surfaces where germs can be easily transferred from person to person such as doorknobs, handrails, faucets and phones. Hydrogen peroxide disinfecting cleaner is designed for industrial and institutional use only.
Become A Customer Today
Customers receive low prices, online ordering and order management, fast-delivery and the best service in the industry.
Get started today. Send an email to custserv@mconley.com or use our online Contact form.
We welcome the opportunity to be of service.