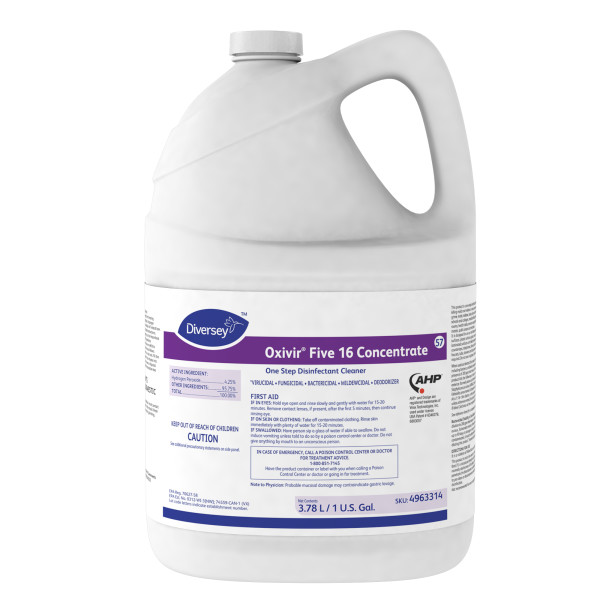 Specifications
Hospital disinfectant
Based on proprietary hydrogen peroxide technology (AHP®)
Kills MRSA ,VRE and Norovirus and Canine Parvovirus
Disinfects in 5 minutes at 1:16 dilution
Excellent surface safety
HMIS ratings are all zeros
For use on hard, inanimate, non-porous surfaces such as floors, walls, porcelain, and plastic surfaces in hospitals, nursing homes, schools, colleges and hotels.
Meets bloodborne pathogen standards for blood and body fluid clean up.
Non food contact sanitizer in 3 minutes at 1:128 dilution
Diversey Oxivir Five 16 Concentrate - Gal.
Item # DIV4963314
Manufacturer: Diversey, Inc
Manufacturer # 4963314
A one step disinfectant cleaner based on proprietary hydrogen peroxide technology (AHP) to deliver fast, effective cleaning performance.
Become A Customer Today
Customers receive low prices, online ordering and order management, fast-delivery and the best service in the industry.
Get started today. Send an email to custserv@mconley.com or use our online Contact form.
We welcome the opportunity to be of service.