NE Ohio's Business As Usual: Abbott Electric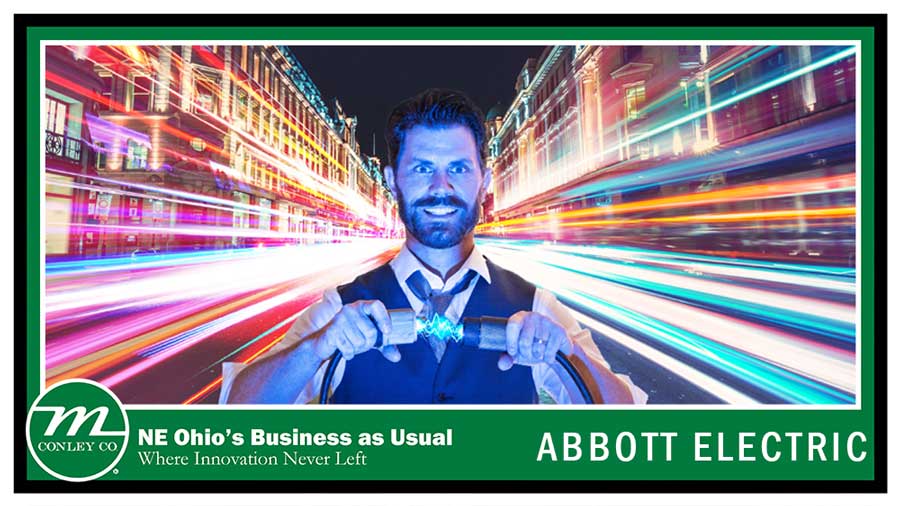 It had been a frustrating day for Mike Abbott as he spent hours searching fruitlessly for some critical pipes in the former Mercy School of Nursing. Finally, he called his father Jim who remembered installing those conduits when the building was under construction in 1969. "Look behind the closet in the corner," he told his son. It was not the first time two generations of Abbotts worked together to solve a tough problem.
In multi-generational family companies, the first generation often flies blind to give succeeding generations the gift of sight. Jim Abbott graduated from Timken High's electrical shop program and became foreman for a number of commercial electrical contractors in the area. To help care for his young family, Jim bought a laundromat at Meyer's Lake, then a car wash.
By 1978, Jim was ready to leave a solid union foreman's job to start Abbott Electric out of the back of his station wagon. 41 years later the move looks like a stroke of genius, but nothing was certain at the time. Looking back, son Mike Abbott knows exactly how his father made it work. "He was the hardest working and smartest business person I've ever been around." Apparently, the Timken High shop graduate was born with an MBA, or at least an uncommon dose of business sense.
Son Mike surpassed his father in academic achievement, graduating from Notre Dame with a degree in Electrical Engineering, but got his business acumen from the School of Jim Abbott. When Jim's work ethic took Abbott Electric as far as possible, he began acquiring many of the same companies he'd worked for in the past.
Meanwhile, Mike was building a life in Chicago with a good job at Commonwealth Edison. When Jim acquired Horn Electric in Tuscarawas County, he asked Mike to come home to help manage the fast-growing company. Apparently, Jim wasn't persuasive enough as Mike stayed in Chicago until a two-hour Chicago traffic jam did the job Jim couldn't. Mike knew it was time to come home.
Mike took charge around 2007. Under his leadership, Abbott Electric has become one of the most successful design/build electric contracting companies in Ohio. They design systems as well as build them, providing more value to business owners and general contractors. The electrical engineering capabilities Mike brought to the company also give Abbott a substantial speed advantage when it comes to quoting jobs and making changes on the fly.
By surrounding himself with an outstanding team, Mike has been able to continue his father's practice of buying other firms to extend Abbott's reach and capabilities. At the same time, the rest of the Abbott family has been doing their part. Brother-in-law, Brent Fatzinger, is CFO while brother, Steve, started a division to analyze the electrical safety of industrial plants. Another brother, Tony, works as an electrical engineer at the company.
Today, Abbott Electric stands at the top of the area's electrical contracting industry with a team of loyal employees, many having worked there since Jim's time. Looking back, Mike can see three lessons from his father that have remained foundations of the business:
Work hard.
Treat people fairly because the business depends on repeat customers.
Always do the job the right way.
These three business guideposts have helped Abbott Electric survive the two most challenging times in any company's history; the start-up years and passing the business to the next generation. The Abbotts found the key to keeping the power flowing is to learn from one another.