NE Ohio's Business As Usual: Quonset Hut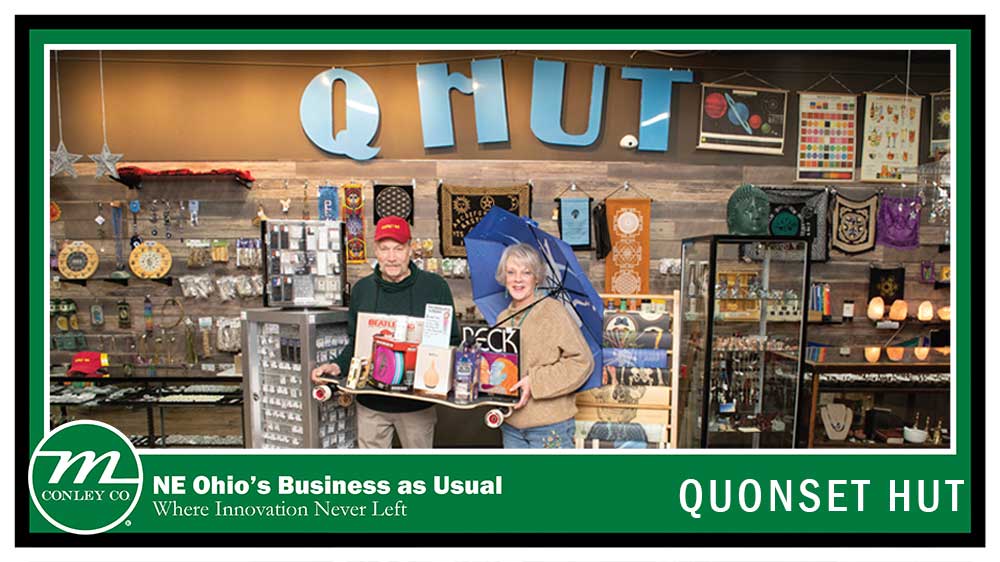 In 1975, Mark Kratzer remembers sitting with fellow employees at the United Bank drive-through lane. They held their paychecks up for the teller to see. She gave the thumbs-down sign, so they drove off laughing.
For two years, Kratzer and his friends worked practically for free as only a few paychecks cleared when building The Barn, a hippie mall just north of what was once called the Belden Village Mall.
While Belden's new tenants sold nationally advertised products, The Barn rented space to sellers of music, beads, hippie clothing, pipes and more. While the tenants had big dreams, they were typically short on money. As a result, Kratzer depended on Social Security payments from parents who died before he left high school.
As The Barn crumbled, the owners set up shop in an old quonset hut on Cleveland Avenue, taking their young worker bees with them. They soon moved to a small house down the street, but the name "Quonset Hut" stuck.
Building a New
As the business took shape, a new accountant told the owners they had to do something to make up for all the bounced paychecks. Then, suddenly, the kids were partners with small equity stakes and yearly profit-sharing checks. The store became the first Stark County outlet for Levis jeans and business began to boom.
When the owner of the record store downstairs failed, the quonset hut found themselves in the record business and succeeded beyond all expectations. Soon, there were five Quonset Hut locations scattered across northeastern Ohio and more than $9 million a year was pouring into the company's account.
Meeting Quonset Hut
Kratzer was finally cashing in on all his hard work. Then, the typical counter-culture business found itself in a traditional business conundrum. All the owners wanted to retire, except Kratzer. After a series of meetings, the partners worked out a deal, whereby Kratzer and his wife, Robin, would buy the name Quonset Hut.
All the merchandise at the five stores would be liquidated and millions of dollars' worth of real estate sold. The Kratzer's took control of all merchandise that did not sell at liquidation, and they paid the partners a percentage of what sold. After more than 30 years of work, Kratzer fully owned the Quonset Hut, a Canton institution with virtually no assets.
Step by step, the Kratzers began to rebuild, relying on good relationships with vendors. With the music industry in disarray and CD sales plummeting, smoke shop products became their big sellers.
They followed the old Quonset Hut formula offering hot products before big box stores grabbed the market. CBD transformed the business. Darts became a big hit, along with skateboards, metaphysicals, high-grade incense, clothing and more. Disc golf illustrated the secret to their success as Dick's tried to get in the game with 150 discs, while Quonset Hut offered more than 3,000.
Kratzer insisted on doing everything the right way. After involving several highly regulated businesses, government inspectors became some of the store's biggest fans.
Offering a New Level of Service
A team of committed product-educated employees brought a level of service hard to find in modern retail stores. Their knowledge was especially valuable with CBD health-related products.
Twelve years after hitting 'restart,' Kratzer revitalized Stark County's most unusual store by creating a new building. The Kratzers purchased the building and worked with an architect to make sure the design met their businesses' quixotic needs. Squiggly parking lot space lines perfectly set the mood.
In many ways, it was a huge risk; but it was the continuation of the off-beat business path pioneered by a grown man, who started his career as a parentless kid with a drawer full of bounced paychecks.
For more "NE Ohio's Business as Usual" posts, visit our blog.