NE Ohio's Business As Usual: Taggart's Ice Cream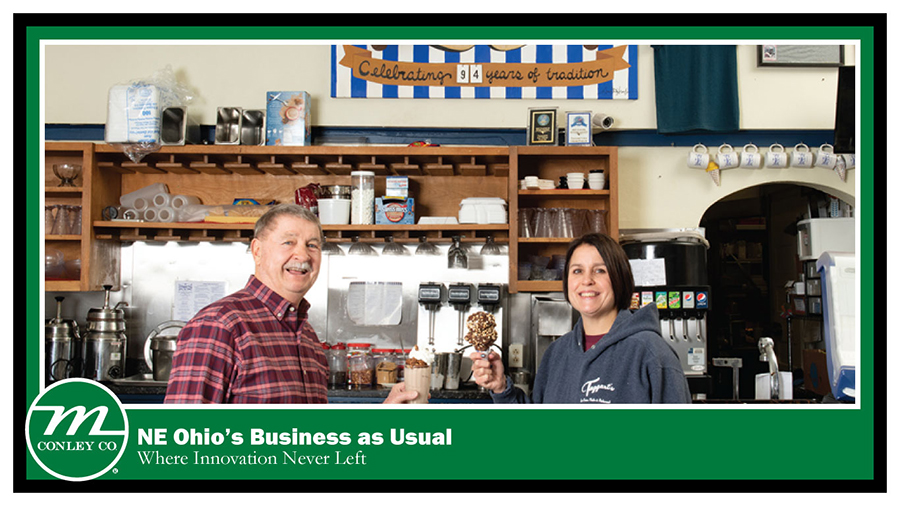 The summer of 1975 was hot. Ernie Schott had moved to Canton and bought his first house just off Fulton on 16th Street in 1971. On steamy summer nights, he and wife Patti walked their young kids three blocks to Taggart's for an ice cream. Ernie liked it so much that 25 years later he bought the whole store.
After 23 years as a manufacturing plant manager, Ernie Schott lost his job when a multi-national behemoth bought the plant he managed. Ernie went on to a second successful career, purchasing Canton's famed Taggart's Ice Cream parlor in 1998 from Don and Mary Montgomery of Carrollton.
When Ernie took over, the store was already more than 72 years old and starting to show its age. Half the windows were boarded up due to vandalism concerns that proved unfounded. Ernie enlisted the help of local developer, Steve Coon, to renovate the store, replacing boards with windows, repairing tiles and giving the place a good scrubbing.
Long-time employees knew how to run the business but cast a wary eye on the new owner who insisted on scrubbing floors himself. His sister's high school memories of working at Taggart's sent him to the basement to find the recipe for Olive Nut Sandwiches and other old-time Taggart's favorites. Soon, they were again added to the menu.
With his family's help, especially son-in-law Doug Mullaly, Ernie figured out a way to run an early 20th Century business in a 21st Century fashion. Finances, payroll and inventory control were computerized. But some things have remained as they were in 1926 when Dr. Taggart built a storefront onto the side of his 13th St. duplex and started selling ice cream on one side with a bicycle shop on the other. His son, Joe, took over in 1926, built an archway between the two stores and changed the name from Stewart's to Taggart's.
Today, high school kids still man the counters, the Bittner is still a big hit, rich ice cream is made in the back and the wooden booths are all original. The biggest crossroads Ernie faced came when he decided to ban smoking, long before it became a legal necessity. Despite dire warnings from their many customers, the business jumped 10 percent.
In 2006, they were invited to open a second Taggart's in a building owned by the Magnolia Historical Society. It turned out to be a great move as the community embraced the new shop.
Buying Kennedy's Barbecue
As Ernie and his family settled into a comfortable routine and business kept growing, attorney and loyal customer, John Werren kept poking Ernie to buy Kennedy's Barbecue, another downtown Canton institution. Ernie kept saying no. But when Jack Kennedy passed away, his wife had a hard time keeping the restaurant afloat. Ernie bought it for the appraised value.
He and his son-in-laws spent the first weekend cleaning and preparing to reopen. By Monday they were ready. Kennedy's business grew 30 percent in their first year and they haven't looked back since.
Finally, in 2016, it came time for Ernie to step back and take a little more time for himself. Mindy and Doug Mullaly, involved since the beginning of his Taggart's adventure, became majority owners. They were only the sixth in Taggart's 90-plus year history and third in Kennedy's long business life.
Ernie remembers when old Joe Taggart called from Florida to congratulate him on buying his former store. Before they hung up, Joe offered one hint: "Keep using 14 percent butterfat; it's what gives the ice cream its creamy flavor."
Father and daughter, Ernie Schott and Mindy Mullaly, have stayed true to the roots of two of Canton's iconic restaurants while turning them into a modern business success story. It appears good food in a clean, simple environment never goes out of style.