COVID-19: Is It Really Creating a New Normal?
By Robert Stewart III, CEO, The M. Conley Company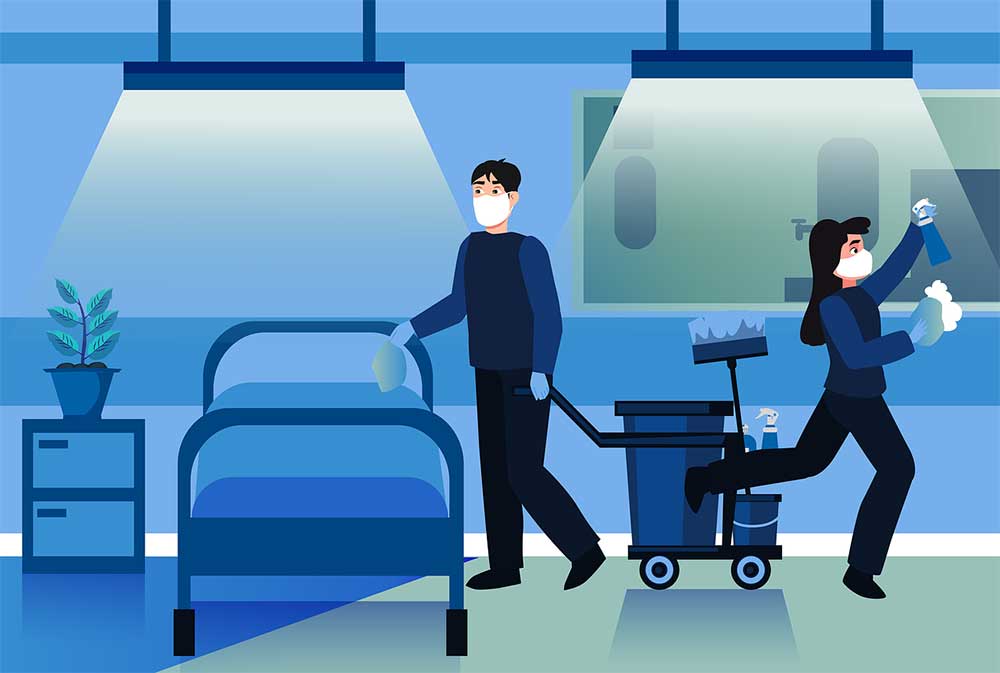 Safe drinking water, sanitation and hygiene are crucial to human health and well-being. And unfortunately, because of the pandemic, sanitation increased in focus for everyone when it should have always been a topic of concern.
At the pandemic's peak, many wanted to reduce the potential for COVID-19 contamination in all settings. Keeping your distance, washing your hands and maintaining good hygiene became top of mind. But have things changed now that fewer masks are being worn and people have moved away from working remotely?
Infection control since the very beginning
Concepts of infection control and sanitation have existed since ancient times. So, this is nothing new. The only new thing is how a facility deals with these concepts, which is critical as public health faces old and new health challenges.
Specific industries will always be at a higher risk for spreading germs and viruses. For example, dining indoors and traveling on cruise ships can present many problems. And since masking policies and protocols vary widely, you must be sure a location is safe. Therefore, cleaning and maintaining healthy facilities should continue to be a priority; so, infection control must be part of your day-to-day routine.
Both a health and business imperative
Enhancing your cleaning regimen is a health concern and imperative to business. It prevents outbreaks from occurring in the future and supports the nation's economic recovery.
Employers can save money on lost production by reducing the amount of sickness at a facility. And with the number of skilled workers being far between, it is crucial to consider how to keep your employees well and productive while at work. This will also help alleviate any fears of returning to the office.
Embracing routine cleaning regimens can help reduce the potential for outbreaks. With proper cleaning and disinfecting protocols in place that reflect the latest federal guidelines and expertise from Occupational Safety and Health Administration, Centers for Disease Control and Prevention and the overall cleaning industry, your facility will be able to keep operations going without the potential for disruption.
Consistency is key to healthy facilities
While the end of COVID-19 is in sight, many can agree that ignoring sanitation and hygiene would be a mistake moving forward. After seeing the number of COVID-related deaths and hospitalizations, experts still urge people to disinfect and sanitize regularly.
Clear communication, consistent cleaning processes and the right products are necessary to keep everyone safe. Additionally, cleaning those high-touch surfaces at least once daily can make a big difference. These types of surfaces include pens, counters and shopping carts.
To keep a healthy facility, there are three, general methods to follow, which include:
#1 – Use the correct surface sanitation product
Since consistency is key, incorporating a cleaning process that includes regular disinfection will help keep a facility safe. You can use products like the PURELL® Healthcare Surface Disinfectant Spray and the Clorox EcoClean™.
The PURELL® Healthcare Surface Disinfectant Spray is a one-step hospital disinfectant and cleaner. It kills COVID-19 in 10 seconds and disinfects for MRSA, VRE and Norovirus in 30 seconds. This product can be used on most hard and soft surfaces.
The Clorox EcoClean™ uses environmentally approved ingredients. There are three types of products, including a disinfecting cleaner, an all-purpose cleaner and a glass cleaner. The disinfecting cleaner kills 99.9 percent of germs in two minutes, such as E. coli, MRSA, Influenza A virus, Norovirus and COVID-19. It also sanitizes non-food contact surfaces in 15 seconds.
#2 – Include no-touch product when possible
Touch-free product is a great way to keep you and your employees safe from germs and illness. In addition, this type of product makes it clear that you are committed to promoting healthy hygiene practices in your facility. Having these types of products in high-traffic areas and restrooms is vital.
An example of this is the touch-free AutoFlush Clamp. It automates an existing manual flush in minutes without shutting off the water. With a long battery life, you can have up to 60,000 flushes.
#3 – Create an overall communication plan
It is critical to make sure your facility is ready. To do that, you must ensure everyone at your facility understands their role. There are ways to prevent and manage the spread of germs. So, it would help if you got all your employees together to ensure they understand the procedures and protocol.
Start by ensuring they clean their workspaces and have good hygiene. Next, advise employees to consult national travel advice before going on any business travel. Finally, ensure all employees understand what they should do if they have symptoms of a virus.
Now is the time to ask yourself why these concepts have yet to be implemented. How your facility adopts infection control and sanitation will make a big difference in your workers and your business. So, COVID-19 should not be introducing a new normal. That process should have already begun.