Fast, Convenient and Serious Disinfecting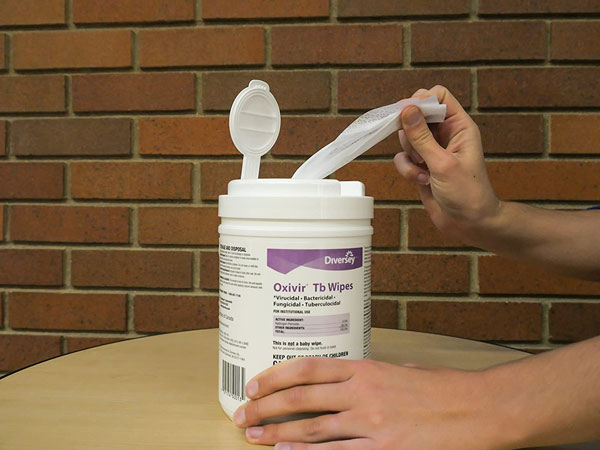 A consistent cleaning routine is crucial to the health and safety of those working within your facility. Commitment to care has the power to create an ideal environment for employees to stay happy and healthy. Therefore, implementing a strong cleaning routine will set you up for success.
Introducing Oxivir TB Wipes
Oxivir Tb Wipes are the perfect addition to your cleaning routine because they quickly and efficiently disinfect. They reduce the risk of contamination and the spread of illness by disinfecting your high-touch surfaces.
Surfaces can be disinfected without the hassle of multiple cleaning solutions. They are disposable, eliminating the risk of cross-contamination.
Quickly Kill Covid-19 and Other Viruses
The FDA and EPA-approved wipes are ready to use and disinfect in only 60 seconds. It's no secret that health standards changed in the last few years due to Covid-19. So, to meet the needs of today's health environment, it's imperative to use safe disinfectants for killing viruses quickly.
While some disinfectants don't meet the standards necessary to uphold facility cleaning requirements, Oxivir Tb Wipes meet bloodborne pathogen standards for decontaminating blood and bodily fluids. They kill virucide, bactericide, tuberculocidal and fungicide within minutes.
Summary of Key Benefits Include:
A one-step cleaner disinfectant powered by AHP(R) technology
They're effective against key pathogens – TB, MRSA, Norovirus and VRE.
Disinfecting is quick. The wipes kill HBV, HCV and HIV in a minute; fungicidal in three minutes; C. Auris and Tuberculocidal in five minutes.
Environmentally responsible, you will not find VOCs, fragrances and NPEs in these wipes.
Oxivir Tb Wipes are compatible with most hard, non-porous surfaces.
To integrate Oxivir Tb Wipes into your facility's cleaning routine, contact us for more information.