Maintenance Sales News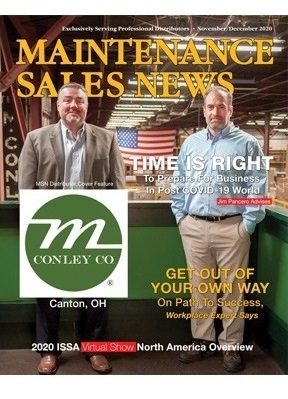 December's issue of Maintenance Sales News Magazine features The M Conley Company and visits it's successes over the years...
Read the magazine on Page 6 here!



Founded by Canton, OH, native Michael Conley, the M. Conley Company, Inc., has been family owned since it was incorporated in 1910. Today, the company is a full-service distributor of paper, safety, janitorial, industrial, food packaging supplies and equipment. In addition to its Canton facility, the company also has a branch location in Lincolnton, NC.
In its fourth generation of family ownership, CEO Robert (Bob) Stewart III, and President Eric Conley, Michael Conley's great-grandsons, head the executive team.
"One of the great things about M. Conley is that no matter who you are, you are a potential customer," Stewart said, during a recent interview with Maintenance Sales News. "The bulk of our business is janitorial and packaging products. We also do a fair amount of business in food service and equipment sales.
"We service health care and acute care entities, including many large hospitals, as well as food processors, grocery stores and restaurants. Our customer base also includes many manufacturing companies, building service contractors (BSCs) and governmental agencies. It goes back to pretty much everyone out there is a potential customer." Among M. Conley's product offering is its Phenom™ line.
"We created Phenom™ because we wanted our own line of products," Stewart said. "They are great products at great price points, and we are always looking to add more SKUs.
"We considered a number of different names and marketing ideas on how to launch the Phenom ™ line, and it has really worked out well for the company." Canton, as pro football fans know, is the home of the Pro Football Hall of Fame, which is also an important M. Conley customer.
Before the COVID-19 virus caused many businesses to shut down across the country, beginning in early to mid-March, business was good at M. Conley.
"We were still growing outside the box, while gaining new customers," Stewart said. "We are very nimble, so we were able to seize opportunities to grow."
JOINING THE FAMILY BUSINESS
While Stewart and Eric Conley's relatives were involved in the business, as often is the case, it wasn't a given that the younger family members would automatically turn working at M. Conley into career.
Michael Conley and his wife had five children: Arthur, James, Mary, Norman and Richard. Mary's daughter, Jean Winafeld-Stewart, who is not involved in the business, is Bob Stewart's mother. Eric Conley's father, David Conley, a former vice president of the company, is the son of Richard Conley.
"I didn't plan to be part of the business," Stewart said. "After college, I did my own thing."
As older family members pondered whether they would eventually sell the business or if younger family members would want to take the company's reins, Stewart received a phone call. Would he be interested in working at M. Conley?
The answer was, yes.
"It was a once in a lifetime opportunity to extend the family legacy, and it was something I was very privileged to be a part of. That was about 13 years ago," Stewart said.
What piqued his interest in joining the company?
"Growing up, my extended family — aunts and uncles and cousins — were involved in the business," Steward said. "I saw the growth. I saw the new warehouse being built. I saw new markets being entered, and new locations starting."
As a child, he attended trade shows with his family, and discovered cleaning industry products are needed by everyone.
"We sell products that absolutely everybody has to have. It has been an amazing opportunity to be part of the distribution process," Stewart said.
Like Stewart, Eric Conley did not plan to work at M. Conley while he was growing up, and, also like Stewart, he went on to attend college. Conley's father often brought home "goodie bags" from the trade shows he attended, which delighted the children.
"We enjoyed looking through the bags that would be full of items, including stickers from different manufacturers," Conley said.
Also, like Stewart, one day Conley received a phone call that would set him on a career path that would eventually lead him to become the president of the company.
"One summer, my dad called and asked if I would like to come work at M. Conley as a technician. Back then, we had taken on packaging supplies and had machines that needed constant maintenance," Conley said.
"So, I started as a service tech 24 years ago. While I was a maintenance tech, I also began handling parts and equipment purchases. In addition, I drove a box truck with tanks and a pump in the back, delivering bulk chemicals to customers.
"When the transition started, as my dad and uncles were retiring, Bob and I got involved in taking over the leadership of the company."
IN THE TIME OF COVID-19
As of mid-December, COVID-19 cases and deaths were spiking throughout the Midwest, as well as in other regions of the U.S. Many states have put in place mandates and restrictions to combat the rise of the virus.
For example, Ohio Gov. Mike DeWine ordered a curfew that went into effect Nov. 19, to last 21 days.
The curfew, which ran from 10 p.m. until 5 a.m., called for all retail establishments to be closed by 10 p.m. Exceptions included people traveling to and from work, getting food or groceries, and seeking medical attention. In addition, DeWine asked citizens to limit their contact with those outside their family during the 21-day period.
Overall, as of Dec. 1, Ohio had recorded 430,093 cases of COVID-19, accounting for 6,548 deaths, according to nytimes.com.
Canton is located in Stark County, about 24 miles south of its larger neighbor, Akron, which is in Summit County.
According to worldpopulationreview.com, the 2020 population of Canton is 69,546. Akron's population is 198,148.
As of Dec. 1, Stark County recorded 10,908 cases of coronavirus, with 229 deaths. In Summit County, there were 15,936 cases and 360 deaths, according to nytimes.com.
Until COVID-19, business at M. Conely was moving along nicely. When the pandemic first hit with a vengeance in mid-March, the company was recognized as an essential business.
Like many distributors that sell cleaning products, including sanitizers and disinfectants, the pandemic did not slow down business as customers, and non-customers alike, scrambled to obtain such products.
"With COVID-19, there are a ton of allocations for certain products in the industry," Stewart said. "We would love to service everybody, but we can't. M. Conley is focused on taking care of the customer partners who made us what we are today. We do not like turning people away, but sometimes that is necessary. Hopefully the supply chain will free up."
Conley added: "The supply chain was turned upside down for PPE (personal protective equipment) and certain chemicals. If I collected all the worst days I've had as a buyer in the past 10 years, I could essentially cram them into the past eight months." Indeed, despite the pandemic, M. Conley has been so busy that no employees have been laid off or furloughed.
"We are back operating full steam ahead. We never really stopped," Stewart said. "We had a handful of people who worked remotely, mostly due to child care issues, and we made accommodations for them and helped them through it. We have a couple who chose to work from home because of health concerns. Now, everybody is pretty much back.
"Our sales force comes in when needed. They don't come in as much as before COVID-19. They are still a little bit isolated."
One of the ways M. Conley is helping to make sure employees are safe and healthy is to require that they wear masks.
"We also have disinfecting machines in both locations (Canton and Lincolnton), and we have extra protocols to disinfect the offices more than usual," Conley said. "We take everyone's temperature each morning. On Mondays and Thursdays, we have employees fill out a questionnaire to make sure they don't have any symptoms."
Stewart had some thoughts on what business might look like in a post COVID-19 world.
"I think customers are going to reevaluate how they clean — as many already have," Stewart said. "You don't always hear talk about best practices, but I think people will start to really take them more seriously than before.
"PPE products are going to continue to be a rapid growth market. Companies have to have them. There's really no choice if you want to operate. I think that is going to have a dramatic impact on the business landscape.
"We are working with vendors to loosen up the supply chain to allow us to get more products in for distribution. It is a challenge because there is such a global demand for everything." Stewart and Conley, as leaders of the company, vow to continue to work to make sure employees are safe and have a positive work environment.
"During the pandemic, our employees have spent many more hours in the workplace than usual," Stewart said. "Because everything has changed so much, it is incumbent upon Eric and me to make sure we have a pleasant, happy environment, where people are not afraid to come to work. We are all in this together."
TWO TEAMS COMPLEMENT EACH OTHER
Between its Ohio and North Carolina operations, M. Conley has about 100 employees, including some with up to 50 years of service to the company.
"I can't think of anything more important to the success of M. Conley than its employees," Conley said.
Stewart added: "We have had, in the past, and continue to have, phenomenal employees. We have people today who were working here before Eric and I were born. Our more veteran staff members saw us grow up, which is special.
"When you see somebody who has stuck around 30, 40 or 50 years, it is a true testimony of our company culture that promotes a 'family' atmosphere and a pleasant work environment."
In addition to its more veteran staff, the company also has talented members of the younger generation on board.
"We have a very strong sales and customer service department," Stewart said. "We essentially have two teams. We have a 'seasoned' team, comprised of a number of sale reps who have been here 30 years or more. They have great institutional knowledge and experience, but they are a little more 'old school.'
"We have developed a new team, which includes younger millennial-age employees. They are more in tune with our customers' younger employees. This is important as we try to match up our customer service and sales staff to best fit a particular customer's situation.
"In addition to working with specific customers day-in and day-out, our customer service reps work with specific M. Conley sales reps, so they become as familiar with a customer as possible.
"We want to make sure our customers are dealing with 'friends' who have their interests at heart."
While there are some differences between the seasoned and the younger teams, both groups work well together to achieve the goal of continuing M. Conley's track record of success.
"Millennials tend to be much more collaborative. They like brainstorming. They like to bounce things off each other," Stewart said. "Older, more seasoned reps have more of a 'lone wolf' mentality. They go on their way and they do what they do. The millennials seem to have a little more of a teamwork-based mentality. They thrive in that type of environment."
Conley added: "While there are differences in how they go about their jobs, both generations demand results."
Another well-documented difference in the generations is how they like to communicate. Baby boomers prefer traditional face-to-face interactions with customers. On the other hand, millennials often prefer to communicate electronically, using text messages, emails and smartphones, etc.
"Our millennial customers and buyers tend to want information more quickly," Stewart said. "We are in the process of implementing a new CRM (customer relationship management) system into our operational platform. It is going to give our sales reps access to a ton of information, helping them meet clients' needs much quicker."
A typical CRM system helps manage customer data. It supports sales management, delivers actionable insights, integrates with social media and facilitates team communications.
"We try to be everything for customers and really take their needs to heart as a true partner," Stewart said. "We provide training, site surveys, quarterly and annual reviews for customers. We also try to meet their needs by developing punchout catalogs."
A punchout catalog is an integrated connection to a buyers e-procurement or ERP system that presents goods and services to the buyer on the buyer's website, according to punchoutcatalogs. com.
M. Conley has built a highly trained, highly motivated and knowledgeable employee base, but it hasn't been easy. Like many other companies in the distribution channel, finding quality employees, especially salespeople, is an ongoing challenge.
"Sales is a very difficult job. There are a lot of ups and downs," Stewart said. "It is really hard to develop young talent. We have a sales manager whose main job is to develop talent. It is not a situation that happens overnight. It takes up to three years for a salesperson to become truly competent and, to develop the skill set necessary to succeed."
To be successful, salespeople, as well as customer service reps, must have an in-depth understanding of the many products available in the cleaning industry.
"There are so many products out there, and they are all different. Sales and customer service employees can always lean on vendor reps for help, but must be competent when it comes to product knowledge," Stewart said.
While M. Conley reps continually keep abreast of the "latest and greatest" in the cleaning industry, they are also willing and able to share their knowledge and expertise with customers.
"We try to conduct as much training for customers as they will allow, and then some," Stewart said. "Prior to COVID-19, we held seminars for customers. We brought in key vendors, discussed best practices and spotlighted new products that would help customers better manage their facilities. Our sales and vendor reps also visited customers' businesses to show how to best use products. Again, it goes back to emphasizing best practices."
SERVICING NORTHEAST OHIO AND BEYOND
Canton is part of the Cleveland-Akron-Canton Combined Statistical Area that has a population of 3.5 million people.
"We service northeast Ohio, down to Interstate 70 and outlying areas," Conley said. "Our Canton facility is located just minutes from I-77 (which runs north and south) and U.S. Highway 30 (which runs east and west), giving our vehicles easy access to our delivery areas."
Stewart added: "Our primary delivery area is within a 120-mile radius of Canton, which en- compasses the large cities of Cleveland, Columbus, Youngstown and Toledo. It is a highly populated area, which includes a lot of industrialbased companies.
"We have our own fleet of trucks and, as Eric said, we are centrally located near major highways, which makes access to both North Carolina and Ohio delivery areas much easier."
I-77 runs south from Canton to Charlotte, NC. M. Conley's Lincolnton facility is located about 30 miles northwest of Charlotte, giving its drivers easy access to the Charlotte Metro Area, which has a population of a little more than 2.5 million people.
M. Conley's delivery operation for northern Ohio begins in its warehouse, which is managed using state-of-the-art software. Between its Canton and North Carolina facilities, the company has about a half million square feet of warehouse space, Stewart said.
"During the day, we take customers' orders," Conley said. "For next-day delivery, orders must be placed before 5 p.m. To accommodate that, we have a night shift that pulls products and gets them ready, either staged or on a truck, for the next day's deliveries."
When COVID-19 first hit, M. Conley took measures to keep drivers safe and still service customers, which included eliminating hand-written customer signatures when signing off on deliveries, Conley said.
"We also put into place a policy of delivering 'dock or door,'" he said. "We tried to avoid walking around inside a customer's facility unless absolutely necessary. During the early stages of COVID-19, dock to door was a best practice."
Stewart added: "Recently, we reverted to our typical delivery patterns. We will now deliver products inside the door, unless the customer requests otherwise. If we know a location is having a COVID-19 outbreak, we will be more cautious.
"I would say 90 percent of our customers, if not more, are receiving products like they did prior to COVID-19."
As is the case with many distributorships, a company's drivers are seen by customers as much, if not more, than salespeople. As a result, in addition to doing a good job making deliveries, a driver has the opportunity, in person, to promote and project his/her respective company's image and good name.
"Our delivery drivers are essential, as they are in many ways the 'face' of M. Conley," Stewart said. "We train and encourage drivers to be friendly and helpful to customers. In addition, they are also valuable sources of information. If a customer is having a problem, or if they see an issue that might be arising, the driver will bring that information back to us and we will address the issue. We can never overlook making sure we are meeting customers' needs."
While making deliveries drivers wear M. Conley apparel, which includes jackets and shirts.
Another important aspect of M. Conley's commitment to best service customers is its Equipment Service Center.
"We have two service techs, and we basically service what we sell, which includes floor and packaging equipment," Conley said. "In addition to servicing what we sell, we also repair other brands. You never know what a customer might bring to us to service."
According to mconley.com, the Equipment Service Center offers the following:
Industrial packaging and janitorial equipment service;
Parts for packaging and janitorial equipment;
Disk and cylindrical brushes for all makes and models;
Industrial deep cycle batteries;
Maintenance programs; and,
Equipment rental and long-term leases.
In addition to servicing equipment at M. Conley's facility, on-site repair teams will respond quickly to a customer's business to make repairs, all in the effort to keeping equipment downtime at a minimum, Conley said.
The company also offers preventive maintenance (PM) programs, tailored to customers' needs.
PM programs include:
Lubrication service;
Basic maintenance;
Safety inspections;
10 percent discount on all replacement parts;
Adjustments of all operational areas;
No charge for travel time; and,
No pickup/delivery charge if equipment is brought to M. Conley's facility.
Typically to get a PM program up and running for a customer, an M. Conley tech and a sales rep will meet with a customer to discuss what kind of program will best fit his/her company's needs, Conley said.
"We can adapt to whatever program the customer wants," Conley said. "We will visit a facility however often a customer desires for PM service.
"Customers who participate in PM programs do so because they want to avoid downtime. They want to make sure their machines are kept in tune and working as they should."
COMMUNITY SERVICE
In addition to its employees being a large part of the company's success, M. Conley has built "brand equity" through its century-long commitment to the Canton community, Stewart said.
"We are a big supporter of the Canton Chamber of Commerce and the different programs they sponsor. We also participate in, and donate to, hospital charity functions," Stewart said. "Whether it is giving to a small church down the road conducting a food drive or supporting our schools and universities, we do what we can to help. Our community involvement is important, and is a responsibility we take very seriously. We feel we have done a great job, but we also recognize there is a lot more to do. As we are able, we will continue to support worthwhile endeavors.
"In addition, The M. Conley Entrepreneur Award program recognizes businesses in northeast Ohio that offer a unique product or service — something that maybe not everybody knows about. During the year, we pick 12 monthly winners, from which we select an Entrepreneur of the Year.
"There are radio interviews and newspaper articles that go along with being selected. We are very proud of the M. Conley Entrepreneur Award program."
OPTIMISTIC ABOUT FUTURE
Despite the unprecedented upheavals in people's personal lives, as well as in the business landscape during 2020, M. Conley's leadership is looking ahead with optimism.
"I think we are in a great position. We have a fantastic customer base. We have strong customers that are thriving as they are adapting to the COVID-19 world, in which we are now living," Stewart said. "There is going to continue to be a strong demand for COVID-related products, which also benefits us looking to the future."
There are, however, challenges to be overcome, including finding quality employees, competing with big box retailers and the proliferation of online purchasing.
"We have a lot seasoned employees with a lot of talent and experience, and we are constantly focusing on, and developing, the next generation," Stewart said. "Finding those qualified people to be next in line is a huge challenge. I also think, moving forward, technology is going to play a bigger role in how we operate, across all levels.
"Furthermore, we are going up against more regional and national powerhouses than ever before. We need to continue to be nimble and very customer focused.
"We are seeing less local distribution and more regional big box entities and online retailers selling jan/san and related products.
"There was a day when you carried a specific product that nobody else had, but now everybody carries the same products.
"We are also part of a great buying group that provides a lot of industry knowledge, particularly when it comes to COVID-19 products. That helps us stay on top of what is happening in the marketplace."

Contact: M. Conley Company,
312 4th St. SE, Canton, OH 44707.
Phone: 800-686-6001.
Email: custers@mconley.com.
Website: mconley.com.