M. Conley: Maintenance Sales News Highlight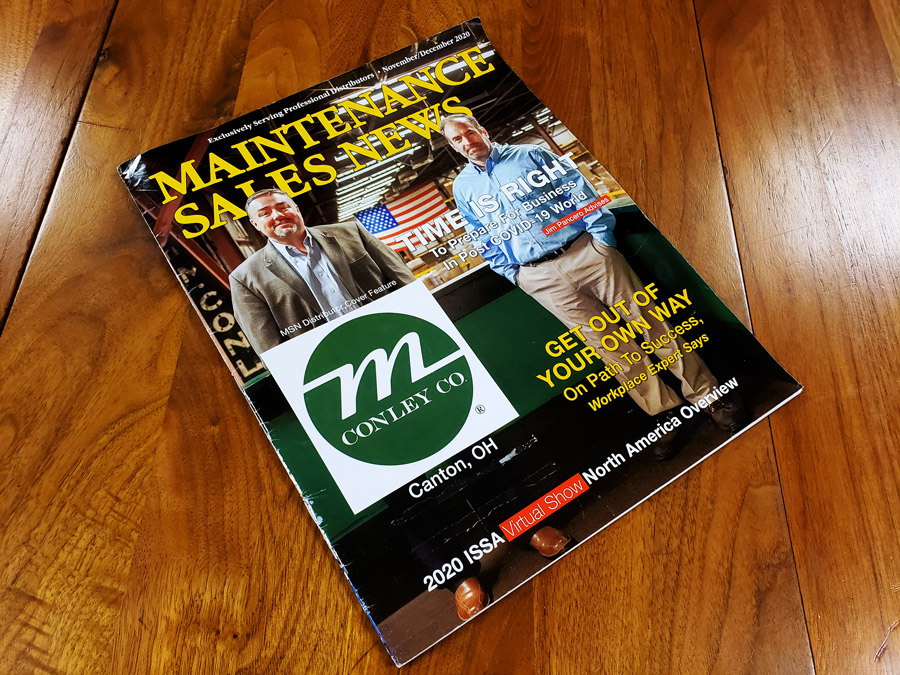 Did you know that The M. Conley Company (M. Conley) was in Maintenance Sales News? In this article, you'll read how M. Conley gives a brand-new meaning to a family-owned business.
Since 1910, our company has been run and operated by several members of the Conley family, and we have been able to run and grow as time progresses. Now, our fourth-generation owner, M. Conley is a business that does it all. From janitorial and packaging services to foodservice and equipment sales, we believe that everyone is a potential customer.
Before and During the Pandemic
Before Covid-19, business was excellent, and we continued to grow by taking advantage of every opportunity that came our way. Our company was recognized as an essential business; so, due to the nature of our products, business at M. Conley did not slow down.
In fact, we had to turn customers away because cleaning and disinfecting products were in such high demand. During this time, our focus remained on the loyal customers who have helped make us who we are today.
We continued to stay busy with business throughout the pandemic, and our employees remained secure in their jobs. We have even been able to assist employees with health concerns or childcare obligations. For example, a handful of our employees worked in a remote location to care for their children and remain healthy during the pandemic.
Corporate Culture: "We're in This Together"
Corporate culture is of high value here at M. Conley, and we follow a "we're in this together" mentality by keeping a family atmosphere at the core of our culture. We want to ensure that our employees feel safe when they come to work.
Having around 100 employees between our Ohio and North Carolina locations, M. Conley holds much appreciation for those that work with us. We have employees ranging from new hires to people who have been with the company for 50 years. This loyalty speaks to the corporate culture and family-like atmosphere present within the company.
We also have a powerhouse sales team with a diverse age range, and every employee is dedicated to producing results. Both our seasoned and new teams find ways to collaborate and bring success to the company.
The Community We Service
As for location, our M. Conley facilities are centrally located near major highways. This ensures our drivers will be able to travel between locations and make their deliveries with ease to the community we serve. Our company has a fleet of trucks that travel between locations as well as make deliveries to customers.
With about half a million square feet of space between both locations, we have plenty of room for inventory and delivery preparation. The delivery drivers are essential, and they must represent the company well with good service and a friendly face.
Serving the community is something we strongly value. Whether financially or with time, we are committed to donating to several different charities. Community involvement is at the heart of M. Conley, and it is something that we take very seriously.
Another way that we have given back is through our entrepreneur award program. This program recognized businesses in the Northeast Ohio area that provide unique products or services. While we aren't as focused on the program amidst the pandemic, we still highlight local entrepreneurs through our NE Ohio's Business as Usual campaign.
Despite the chaos that has surrounded the past year, we continue to remain positive about the future. Due to our strong customer base and adaptability surrounding the pandemic, M. Conley will remain successful. We will continue to stay on top of the marketplace with our customer-focused mindset and talented employees.