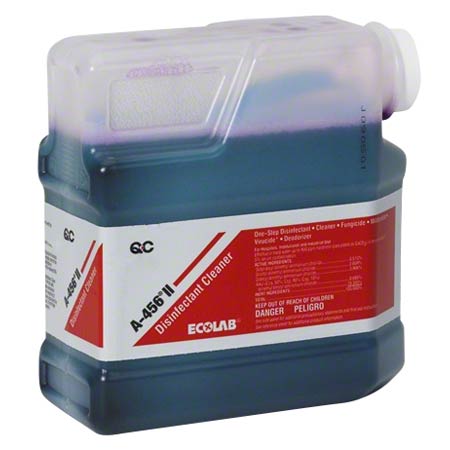 Specifications
Cleans, disinfectants and deodorizes in one step
Compatible with many types of surfaces as stated on the label
Concentrated product saves time, helps reduce inventory need and controls costs
Effective bactericide and virucide in hard water up to 400 ppm hardness
For use on hard, non-porous surfaces like floors, walls, toilet bowl surfaces, sinks, showers, lavatory fixtures, finished woodwork, vinyl and plastic upholstery, etc.
Ecolab QC A-456 II Disinfectant - 1.3 L
Item # 61166931
Manufacturer: Ecolab, Inc.
Manufacturer # 61166931
Highly concentrated formula cleans, disinfects and eliminates odors in one easy step. Effective against bacteria and viruses as listed on product label. EPA registered.
Become A Customer Today
Customers receive low prices, online ordering and order management, fast-delivery and the best service in the industry.
Get started today. Send an email to custserv@mconley.com or use our online Contact form.
We welcome the opportunity to be of service.