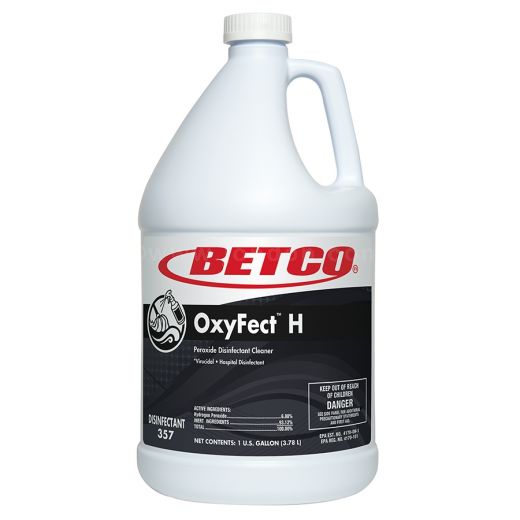 Specifications
Versatile for use throughout your facility, cleans glass, floors, and restrooms.
Effective against Pseudomonas aeruginosa, Staphylococcus aureus.
Hospital disinfectant and virucidal against HIV-1 (AIDS virus) and Influenza A.
New! Kills MRSA, VRE, and Hepatitis B virus.
Neutral pH will not discolor or tarnish sensitive surface substrates like competitive products.
Color Colorless
Fragrance Fresh Mint
pH concentrate 6-8
pH diluted 6-8
Foaming Moderate
Rinsability Excellent
Betco OxyFect H Peroxide Disinfectant Cleaner - 1 Gallon, 4/Case
Item # BET3570400
Manufacturer: Betco®
Manufacturer # 35704-00
Don't just disinfect? OxyFect™ with the industry's first neutral peroxide hospital disinfectant cleaner. Kills HIV-1 (AIDS virus) influenza A, pseudomonas, salmonella, and staph and many other pathogens listed on the label. Safe for glass, floors, and restrooms. One versatile product delivering amazing results!
Become A Customer Today
Customers receive low prices, online ordering and order management, fast-delivery and the best service in the industry.
Get started today. Send an email to custserv@mconley.com or use our online Contact form.
We welcome the opportunity to be of service.