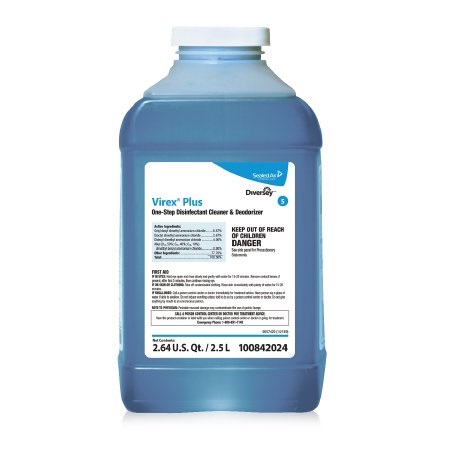 Specifications
Meets OSHA's BloodBorne pathogen standards for HBV and HIV
One-step quaternary disinfectant cleaner and deodorizer to clean and disinfect hard surfaces in hospitals, nursing homes and other facilities
Is effective against a broad spectrum of bacteria, is Virucidal, including HIV-1, Hepatitis B Virus, Hepatitis C Virus, and Fungicidal
Is a heavy-duty disinfectant cleaner that cleans, disinfects and deodorizes in one labor saving step. Also delivers non-acid disinfectant and cleaning performance in an economical concentrate
Meets AOAC efficacy standards for hospital disinfectants
Is an effective one-step sanitizer-cleaner for use on non-food contact surfaces
Diversey Virex Plus One-Step Disinfectant Cleaner - 2.5 L
Item # DIV100842024
Manufacturer: Diversey, Inc
Manufacturer # 100842024
One-step quaternary disinfectant cleaner and deodorizer to clean and disinfect hard, nonporous surfaces in hospitals, nursing homes and other facilities. Kills HIV-1 and Influenza type A in 1 minute or less. Non-food contact sanitizer in 15 seconds at 1:256.
Become A Customer Today
Customers receive low prices, online ordering and order management, fast-delivery and the best service in the industry.
Get started today. Send an email to custserv@mconley.com or use our online Contact form.
We welcome the opportunity to be of service.