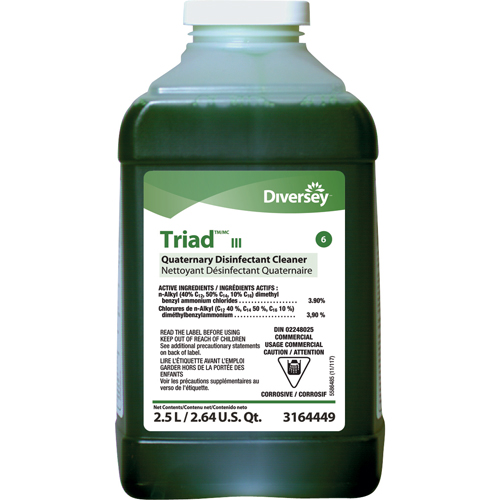 Specifications
Disinfectants with heavy duty Cleaner properties
Kills MRSA and VRE
Bactericidal, virucidal and fungicidal
Meets bloodborne standards for Cleaner and decontaminating blood and body fluids
Diversey Triad III Disinfectant Cleaner - 2.5 L. J-Fill
Item # DIV3164406
Manufacturer: Diversey, Inc
Manufacturer # 3164406
A quaternary-based, heavy-duty alkaline cleaner and disinfectant concentrate for use in healthcare, education, lodging and commercial facilities. Excellent for heavy soil applications. Bactericidal, virucidal, fungicidal, Kills MRSA and VRE. -2 per case, 2.5 L.
Become A Customer Today
Customers receive low prices, online ordering and order management, fast-delivery and the best service in the industry.
Get started today. Send an email to custserv@mconley.com or use our online Contact form.
We welcome the opportunity to be of service.