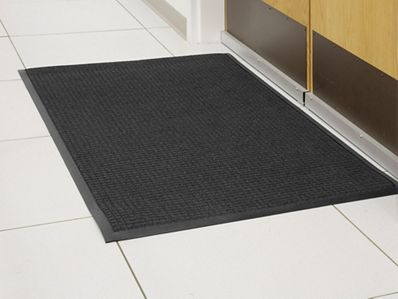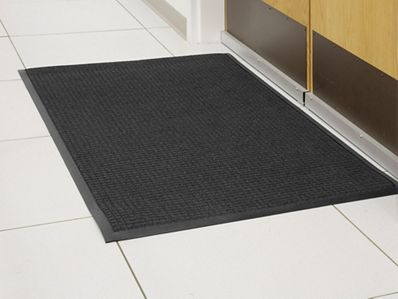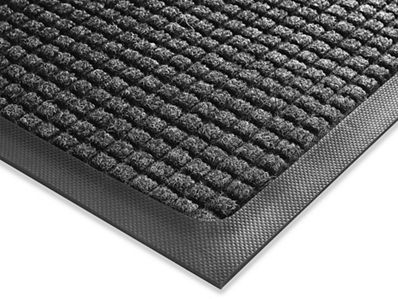 Specifications
Waterhog Floor Mats have an anti-static polypropylene surface that dries quickly and will not be prone to fading or rotting. Thus, Waterhog Classic is a perfect floor mat for both inside and outside environments.
To clean Waterhog Mats, simply vacuum, hose off or use steam or shampoo extraction.
Waterhog Classic Entry Mats are now made with 20% recycled content.
Fiber Type: Solution Dyed Polypropylene, outstanding lightfastness
Nub Height: 1/4"
Design: Square ?Waffle?
Backing
Type: 100% SBR Rubber (20% Recycled Content)
Thickness: 0.110? ? Border; 0.190? Nubs; 0.050? ? Between Nubs
Durometer: 60
Not adversely effected by salt or ice melt.
Should not be used in areas exposed to animal fats (kitchens) or petroleum products.
Passes Flammability Standard DOC-FF-1-70
Anti-static: Waterhog mats have a maximum average voltage of 1.6 KV as measured by the AATCC 134 Electrostatic Propensity Test and meets IBM's minimum standard for electrical resistance (NFPA99). Waterhog mats are safe for use in computer rooms and around electronic equipment.
ASTM C 1028-89 Static Coefficient of Friction Dry .70
Waterhog Classic Mat - 3' x 5', Charcoal
Item # MA2003X5154
Manufacturer:
Waterhog Classic Mats have become the most recognized entrance mats in the industry. Due to their "waffle" or raised square pattern, these entrance door mats effectively scrape shoes clean of dirt, debris and water. Waterhog Mats also features a water dam border that holds up to 1.5 gallons per square yard.
Become A Customer Today
Customers receive low prices, online ordering and order management, fast-delivery and the best service in the industry.
Get started today. Send an email to custserv@mconley.com or use our online Contact form.
We welcome the opportunity to be of service.