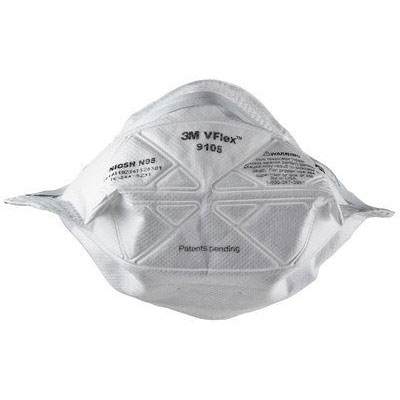 Specifications
Assigned Protection Factor (APF): 10
Approvals: Unvalved N95
Protection Type: Dust, Particulates, Non-Oils
Color: White
400 masks per case
3M™ VFlex™ Particulate Respirator 9105, N95, 400 masks
Item # N95
Manufacturer: 3M™
Manufacturer # 70071563897
NIOSH approved for at least 95 percent filtration efficiency against certain non-oil based particles, the disposable 3M™ VFlex™ Particulate Respirator 9105 boasts a unique folded design with 3M proprietary filter media and V-shaped pleats that expand and flex to help make breathing and talking easier.
Recommended use:
Protection from particles such as those from grinding, sanding, sweeping, sawing, bagging, or other dusty operations
Become A Customer Today
Customers receive low prices, online ordering and order management, fast-delivery and the best service in the industry.
Get started today. Send an email to custserv@mconley.com or use our online Contact form.
We welcome the opportunity to be of service.
Safety Data Sheet
Brochure