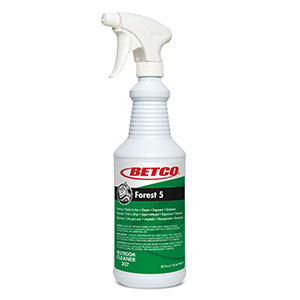 Specifications
Clinging foam applies easily and allows for maximum contact time
Excellent for soap scum and body oil removal in shower areas
Versatile all purpose cleaner
12 per case
Betco Forest 5 Foaming Cleaner & Deodorant - 32 oz Bottle, 12/Case
Item # 3071200
Manufacturer: Betco®
Manufacturer # 3071200
This foaming cleaner is the perfect convenience product for a variety of cleaning tasks. No mixing is required with this advanced, ready-to-use formulation containing three special solvents which quickly penetrate the toughest soils found in nursing homes, hospitals and institutions.
Become A Customer Today
Customers receive low prices, online ordering and order management, fast-delivery and the best service in the industry.
Get started today. Send an email to custserv@mconley.com or use our online Contact form.
We welcome the opportunity to be of service.