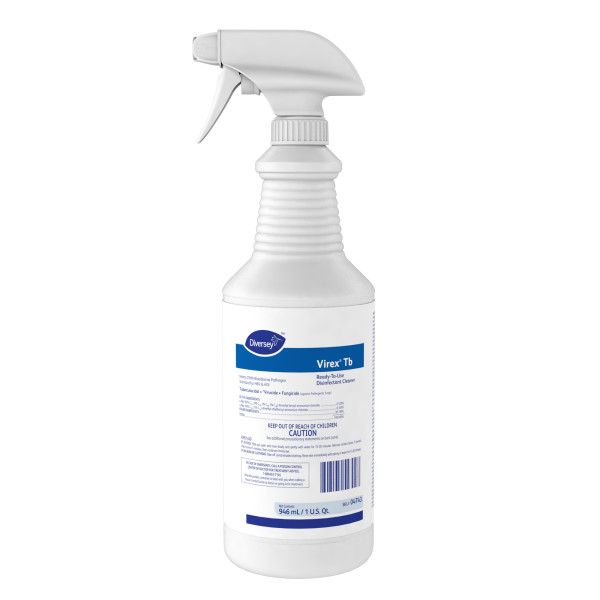 Specifications
Kills HBV and HIV-1 (AIDS virus) in one minute. Provides broad spectrum kill of gram positive and gram negative microorganisms, including Tb, MSRA, VRE, MRSE, HBV, HIV-1, Canine parvovirus and many more
Kills Tb in five minutes and all other bacteria in three minutes. Kills Norovirus in 30 seconds
Ready-To-Use formula provides excellent, cost-effective cleaning and disinfection in one step
Eliminates odors leaving surfaces smelling clean and fresh
This product can be used in multiple areas such as hospitals, health care facilities, medical offices, hotels (motels), public facilities, public restrooms, institutional facilities and schools (colleges and universities)
Odor Primary: Lemon
Color Primary: To Match Standard(TMS)
12 per case
Diversey Virex® Tb Ready-to-Use Disinfectant Cleaner - 32 oz. Bottles, RTU, 12/Case
Item # DIV4743
Manufacturer: Diversey, Inc
Manufacturer # 04743
A ready-to-use, quaternary-based, hospital-grade disinfectant that provides excellent cleaning and deodorizing in one step.
Become A Customer Today
Customers receive low prices, online ordering and order management, fast-delivery and the best service in the industry.
Get started today. Send an email to custserv@mconley.com or use our online Contact form.
We welcome the opportunity to be of service.