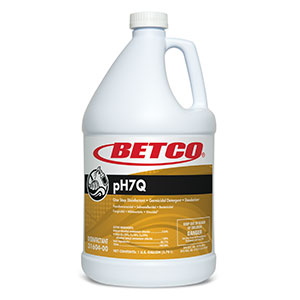 Specifications
Recommended for use in hospitals, nursing homes, schools/colleges, commercial and industrial institutions.
Neutral pH formula is perfect for damp mopping highly polished floors and will never dull, haze or leave a film.
Effective against antibiotic resistant strains, VRE and MRSA.
Neutral pH won't dull haze or attack floor finish.
Color Light amber
Detergency Excellent Fragrance Pleasant Lemon
pH 7.0 - 8.0
Recommended dilution 2 ounces/gallon
Freeze/thaw stability 3 cycles
4 per case
Betco pH7Q Disinfectant - 1 Gallon Bottle, 4/Case
Item # BET3554700
Manufacturer:
A multi-purpose, germicidal detergent and deodorant that disinfects, cleans and deodorizes in one labor- saving step. Neutral pH disinfectant, detergent and deodorant.
Become A Customer Today
Customers receive low prices, online ordering and order management, fast-delivery and the best service in the industry.
Get started today. Send an email to custserv@mconley.com or use our online Contact form.
We welcome the opportunity to be of service.