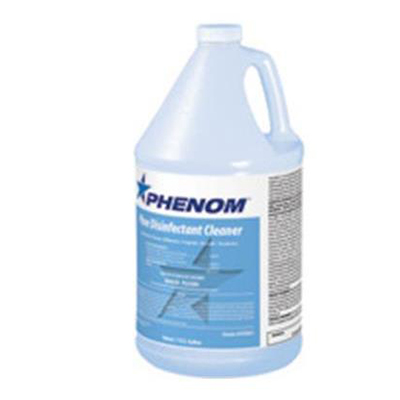 Specifications
Neutral Disinfectant, Cleaner, Mildewstat, Fungicide, Deodorizer
Fresh pine scent
For use in hospitals, food service, hotels, schools, institutional and industrial
Kills influenza A virus
EPA Label Claim: Human Coronavirus
Concentrate: 1/4 oz. per gallon
4 per case
Phenom™ Pine Disinfectant Cleaner - 1 gallon, 4/Case
Item # PHTK825
Manufacturer: Manufactured Exclusively for The M. Conley Company
Manufacturer # PHTK825
Our Phenom™ pine cleaner is a one-step germicidal disinfectant that quickly cleans organic matter such as mold, mildew, food residue and body oils commonly found in nursing homes, hospitals, public areas, etc. Safe to use on non-porous surfaces.
Become A Customer Today
Customers receive low prices, online ordering and order management, fast-delivery and the best service in the industry.
Get started today. Send an email to custserv@mconley.com or use our online Contact form.
We welcome the opportunity to be of service.
Safety Data Sheet