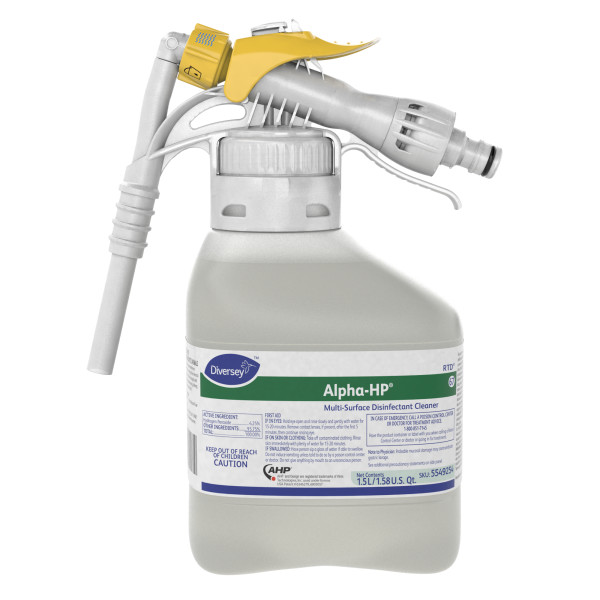 Specifications
Uses proprietary Accelerated Hydrogen Peroxide technology
High productivity cleaning, rinsing not required
Multiple dilutions for different applications
Meets daily cleaning needs
Low levels of hydrogen peroxide
Bactericidal and virucidal, non-food contact sanitizer
Hydrogen peroxide active ingredient breaks down to oxygen and water after use
Excellent cleaning performance and environmental profile
Meets daily cleaning and disinfection needs
For use on hard, inanimate, nonporous surfaces such as floors, walls, glazed porcelain, and plastic surfaces in hospitals, nursing homes, schools, colleges and hotels
Use as a spray and wipe cleaning application and as a floor cleaner
Odor Primary: Citrus
Color Primary: Colorless
Diversey Alpha-HP Multi-Surface Disinfectant Cleaner - 1.5L, RTD, 2/Case
Item # DIV5549254
Manufacturer: Diversey, Inc
Manufacturer # 5549254
An all-in-one, multi-purpose disinfectant cleaner based on proprietary AHP technology for use on most water washable hard, nonporous surfaces. Hospital-grade disinfectant.
Become A Customer Today
Customers receive low prices, online ordering and order management, fast-delivery and the best service in the industry.
Get started today. Send an email to custserv@mconley.com or use our online Contact form.
We welcome the opportunity to be of service.