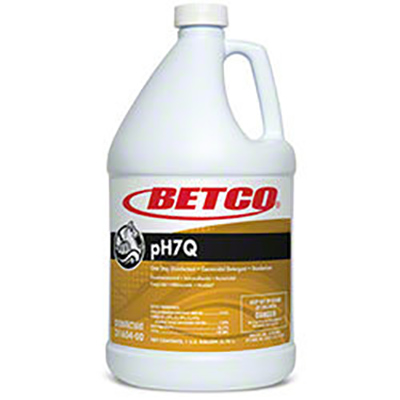 Specifications
Economical ultra concentrate @ 2 oz. per gallon for a low end use cost.
Effective against antibiotic resistant strains, VRE and MRSA.
Neutral pH won't dull haze or attack floor finish. Leaves no film.
Color Light amber
Detergency Excellent
Fragrance Pleasant Lemon
pH 7.0 - 8.0
Recommended dilution 2 ounces/gallon
Freeze/thaw stability 3 cycles
4 per case
Betco pH7Q Disinfectant - 1 Gallon Bottle, 4/Case
Item # BET3160400
Manufacturer: Betco®
Manufacturer # 3160400
A multi-purpose, germicidal detergent and deodorant, disinfects, cleans and deodorizes in one labor- saving step. Recommended for use in hospitals, nursing homes, schools/colleges, commercial and industrial institutions. Neutral pH formula is perfect for damp mopping highly polished floors and will never dull, haze or leave a film.
Become A Customer Today
Customers receive low prices, online ordering and order management, fast-delivery and the best service in the industry.
Get started today. Send an email to custserv@mconley.com or use our online Contact form.
We welcome the opportunity to be of service.