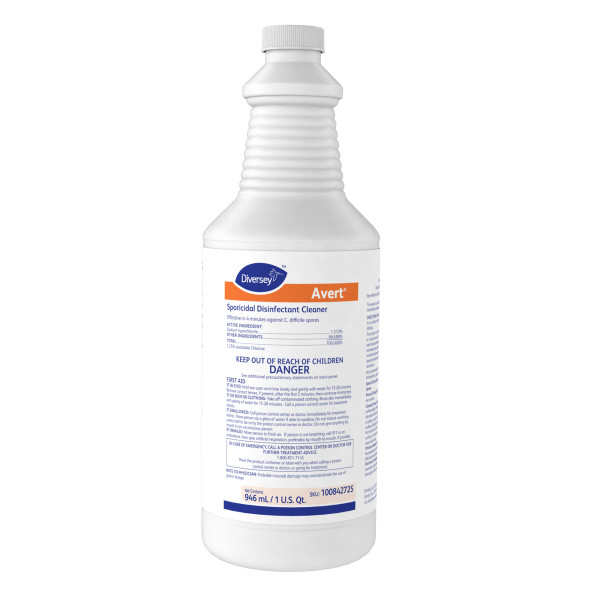 Specifications
Effective in 4 minutes against Clostridium difficile (C. diff) (C. difficile) spores
Cleans, disinfects, and deodorizes hard, nonporous inanimate (environmental) surfaces (and patient care equipment) in one step with no rinsing required
A heavy duty disinfectant cleaner that cleans, disinfects, and deodorizes in one labor saving step
Bleach-based formula means no quat-binding concerns
No added fragrance or dye
Apply product by coarse trigger sprayer to hard, nonporous inanimate (environmental) surfaces
Wipe surfaces dry with a dry paper towel, dry disposable wiper, lint-free cloth, microfiber cloth, or sponge
12 per case
Avert™ Sporicidal Disinfectant Cleaner - 32 oz
Item # DIV100842725
Manufacturer: Diversey, Inc
Manufacturer # 100842725
Avert Sporicidal Disinfectant Cleaner cleans, disinfects and deodorizes hard, nonporous surfaces in one labor saving step with no rinsing required. Designed for use on hard, nonporous surfaces such as those found in hospitals and other healthcare facilities.
Become A Customer Today
Customers receive low prices, online ordering and order management, fast-delivery and the best service in the industry.
Get started today. Send an email to custserv@mconley.com or use our online Contact form.
We welcome the opportunity to be of service.